500
Fiat 500
The original Fiat 500 was an iconic hatchback first appearing in the late 1950s. A compliance electric version (called the 500e) came to market from 2013 until 2019 (although was never sold in New Zealand).
The new Fiat 500 (from 2021) is electric only. There are no combustion engine versions.
Fiat 500e
Expected Q2 2023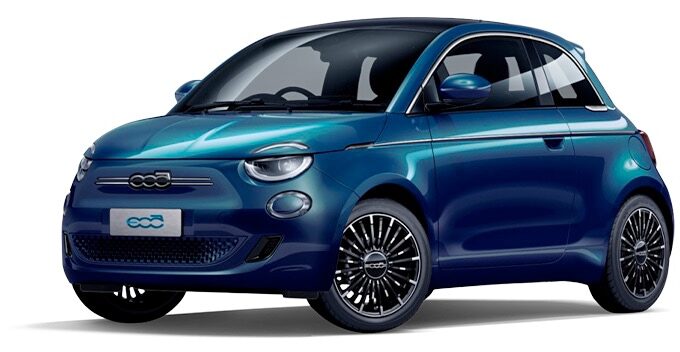 Body Type
Seats
Length
Width
Height
Boot Space
Frunk
Hatchback
4
3631 mm
1683 mm
1529 mm
185 L / 550 L
-
0-100 km/h
Top speed
Power
Drive
Battery
Tow
9 s
150 km/h
87 kW
FWD
42 kWh / 37.3 kWh
-
Highway range
Running cost
Home charge
Fast charge (DC)
Dashboard economy
V2L
246 km
$4.26/100 km
11 kW
85 kW
117 Wh/km
-
The electric Fiat 500 has two trims: Pop and the premium Icon trim (with glass roof
How many 500's sold in NZ?
All Fiat 500 variations combined. Including NZ new and used import registrations. Breakdown by year or month.
How many 500's are there in NZ?
There have been 19 Fiat 500's registered in NZ to date.
This is made up of 78.9% NZ New and 21.1% Used Import.
How many of each submodel is there?
How many units of each major model variation (NZ new) have been registered to date.
| | |
| --- | --- |
| E | 12 |
| 500E FIAT POP 42KWH | 2 |
| LA PRIMA | 1 |