eDeliver 9
LDV eDeliver 9
The eDeliver 9 is a fully electric van that comes with three battery options - 51.5 kWh "Big", 72 kWh "Bigger", and 88.55 kWh "Biggest". There are also three size options - short wheelbase, long wheelbase, and cab chassis.
LDV eDeliver 9
2022→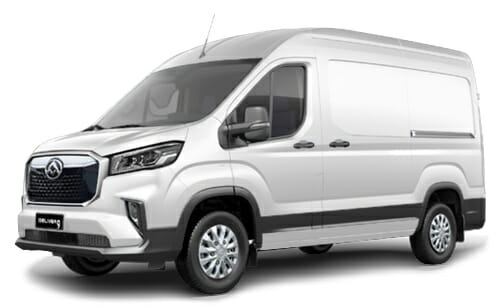 Body Type
Seats
Length
Width
Height
Weight
Boot Space
Frunk
Van
3
5546 mm
2062 mm
2525 mm
2640 kg
9690 L / 9690 L
-
0-100 km/h
Top speed
Power
Drive
Battery
Tow
18.4 s
100 km/h
150 kW
FWD
72 kWh / 68.9 kWh
750 kg / 1500 kg
Highway range
Running cost
AC charge (max)
DC charge (max)
Economy
V2L
182 km
$9.72/100 km
7.2 kW
50 kW
3.4 km/kWh
-
These specs are for the "Big" variant - short wheelbase and larger 72 kWh battery. The larger 88.5 kWh battery (available in the long "Bigger" wheelbase lifts the range to 296 km).
How many LDV eDeliver 9's have been sold in NZ?
There have been 103 LDV eDeliver 9's registered in NZ to date. These were all registered as new.
How many sold per month and year
LDV eDeliver 9 registrations per month and year, (NZ new and used imports combined).
How many of each submodel is there?
How many units of each major model variation (NZ new only) have been registered to date.
| | |
| --- | --- |
| BIG 52KWH/EV/AT | 35 |
| BIGGER 88KWH/EV | 26 |
| BIGGER 72KWH/EV | 20 |
| BIGGER 52KWH/EV | 18 |
| BIG 72KWH/EV/AT | 4 |