Listed in order of most efficient to the least, using the WLTP consumption rating.
Running cost is based on 0.25 cents per kWh electricity price.
Help! I'm confused 🤔
* The WLTP is the benchmark for comparing EVs and estimating running costs. It measures recharged electric energy from the mains.
Charging loss: if you've ever measured household draw when charging, more electricity leaves your circuit board than goes into the battery.
Power can be lost as heat, and some cars, such as Tesla, may use power for battery heating or pre-conditioning.
I'm still confused 🤪
** The dashboard shows how much power is consumed from the battery. It knows nothing of the energy lost during charging.
How can you get two vehicles with the same WLTP Wh / km but different dashboard consumption?
The vehicle that gets more kilometres per kWh on the dashboard must have used less electricity during charging.
How does this compare to Hybrids and Plugin Hybrids?
Consumer NZ did a real-world test.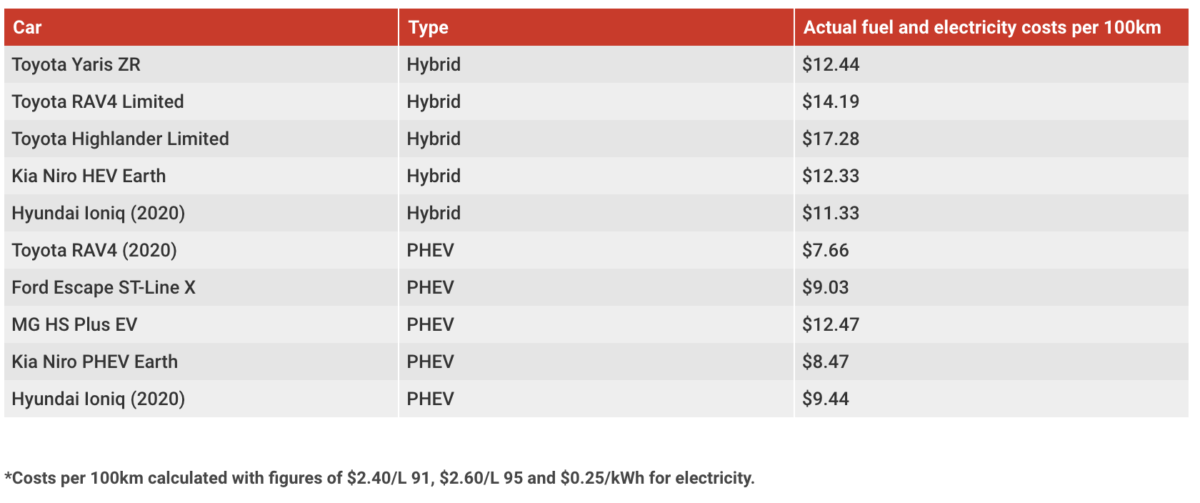 How electric energy consumption is measured
Efficiency can be expressed in three different ways.
watt-hours (Wh) consumed per kilometre travelled.
kilowatt-hours (kWh) per 100 km travelled.
km / kWh (the number of kilometres travelled per unit of kWh of electricity.
Energy consumption can be measured from the battery or recharged electric energy from the mains.
Battery consumption allows comparison on a drive-by-drive basis (viewed in the dashboard).
Mains consumption is good for comparing running costs as it considers charging losses (measured using special equipment).
Car reviewers routinely mix the two up: "The WLTP says 167 Wh / km, but I managed to get 148 Wh / km".
Unless the reviewer wired up a meter to measure power leaving the mains – they are not comparing the same thing.
How is EV efficiency measured?
The WLTP testing process depletes the battery, then recharges it again (while measuring electricity leaving the mains). Along with other calculations, this process predicts a consumption figure using recharged energy from the mains.
The test cycle also measures electricity consumption from the battery during travel in order to estimate the EV's range.
What affects efficiency?
Efficiency is affected by vehicle mass, powertrain, aerodynamic drag, and rolling resistance.
A more efficient EV is typically lighter, has a low aerodynamic drag coefficient, and has an efficient powertrain that makes maximum use of regenerative braking.
Why drive an efficient EV?
Lower running costs – less recharging needed.
Fewer emissions during travel – NZ has around 85% of renewables but still generates electricity from fossil fuel sources.
Fewer emissions during production – inefficient EVs have larger batteries to power larger mass.
A highly inefficient EV has questionable environmental credentials.